Posted by
Apr 30, 2018
in
Metal Fabricators
|
0 comments
on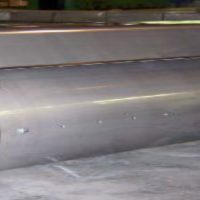 Welding involves a number of skills. Welders learn to handle specific tasks using different techniques. While some may have a complete arsenal of welding equipment and types from which to draw, others may only focus on a single kind of welding. For many welders in Cleveland shops, this is TIG or MIG welding; for others, they may prefer another type. This is stick welding.
Stick or Shielded Metal Arc Welding (SMAW)
SMAW is the oldest types of welding currently in use today. Welders who do SMAW utilize a stinger or stick. This is an electrode or welding rod. It contains the current-carrying flux-coated core wire. Once the tip contacts the surface of the ferrous metal, the energy it produces creates the weld and a protective coating of slag and gas. This simple method is a favorite at construction sites, on pipelines and out in the field.
Advantages of Stick Welding
Stick welding has its purpose. Many Cleveland welders who favor it do so for any of several reasons. In fact, this form of welding does offer certain advantages to its users over other methods. Among the commonly cited characteristics:
* Portable: What a welder needs to have on hand and carry around for SMAW is minimal when compared to other forms of welding
* Affordable: Welders find this to be the least expensive type in terms of initial equipment layout
* Setting: Welders can perform SMAW inside or out
* Weather: Unlike other types of welding, SMAW can be done in rain or shine and under windy as well as calm conditions
* Preparation: SMAW requires little to no pre-welding prep work because it is not as sensitive to corrosion or dirt at the welding point
* Ease-of-Use: Welders can easily change rods as required. They can also attach the ground clamp at a distance from the welding point
With such benefits, it is easy to see why many Cleveland welding shops turn to stick welding under certain conditions.
Add to favorites