on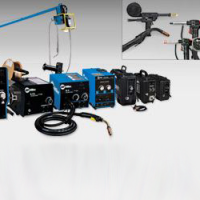 During a welding project, safety is a key consideration. Arc welding is safe as long as precautions are taken, but welders face a variety of hazards such as fire, explosion, and electrical shock. To keep welders safe, OSHA and other organizations offer guidelines meant to control and minimize hazards. In this article is a discussion of some of the most common hazards faced by Welding Repair professionals with Awelders.com.
Electrical Shock
Shock is one of the most immediate and serious risks facing welders. It can cause severe injury and death, either from the shock or from a fall afterward. Shocks occur when welders touch metal objects with a voltage between them, becoming part of the circuit. The higher a voltage is, the higher the current will be-; and the greater the chance will be for a shock-related fatality. When a welding system is turned on but it is not being used, the welding equipment typically has a voltage ranging from 120-575 volts, which poses a significant risk. Only a qualified technician should repair or service welding machines.
Gases and Fumes
It's not surprising that exposure to welding gases and fumes can present a serious health hazard to a welding professional. Fumes contain harmful metal oxides, and it is important for operators to use ventilation and exhaust to control exposure. In most cases, employers provide vent systems to remove gases and fumes from work areas.
Explosion and Fire
Welding arcs create high temperatures, posing a significant explosion and fire hazard if safety precautions aren't taken. An arc can reach a temperature of 10,000 degrees F, but the danger is mostly in the heated area near sparks created by an arc. Such spatter can be a danger up to thirty-five feet away from a welding machine.
Other Safety Issues
Welding Repair pros should know about other safety issues within a working environment. For instance, a welder working in an enclosed area may need to take additional safety steps. Welding operators should carefully read data sheets and other safety information provided by equipment manufacturers and should work with employers and colleagues to make the workplace safer.
Tweet us on Twitter!
Add to favorites