Posted by
Nov 29, 2017
in
Water Treatment
|
0 comments
on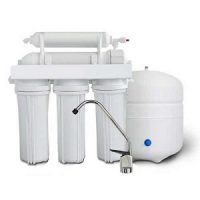 When it comes to water purification, there can be a lot of misunderstandings. This is especially true when it comes to using ultraviolet irradiation to destroy microorganisms in the water supply. Let's break it down.
Dirty Water
Water in its natural state, such as coming from a spring, well, or river without the direct interference of a water district is considered unsanitary. Water in its raw state often carries parasites, bacteria, fungi, and viruses. This is because water does not simply spring into being. The water that is present in the water table and surface sources is subject to contamination from wildlife, agriculture, industry, and human waste. The water is then filtered or purified to make it safe to drink or use. Ultraviolet germicidal irradiation is just a part of making water safe to drink and bathe in.
A UV water sterilizer uses Ultraviolet-C, which is a strong form of ultraviolet radiation typically blocked by the Earth's ozone layer.  This method has been employed since the mid-20th century, although more typically by water management facilities. The reason for this was simply because the equipment was expensive, and by nature of water storage, these entities had more time to expose the water to the radiation.
Home Use
UVGI is best used in a home-based system with water that has already been precycled with a reverse osmosis filtration system. The ultraviolet loses effectiveness in water with high rates of sediment or other types of occlusion. This can lead to an incomplete sterilization that leaves a number of bad actors merely dormant, instead of being killed by having their cellular functions shut down by radiation. For home users, it is recommended to work with an experienced water purification company in order to maintain the correct flow rate required to produce sterilization.
Add to favorites