Posted by
May 7, 2018
in
Landscaping
|
0 comments
on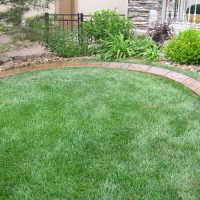 Thinking about transforming your front or back yard? While there are plenty of ways you can go about doing that, from using landscape timbers to installing informal flower gardens, you'll find that concrete borders can offer quite a few unique advantages. At L&B's Concrete Landscape Borders, we believe these are some of the best solutions for virtually any homeowner. What should you know about the benefits offered by concrete landscape borders service?
Affordability
One of the first benefits you'll find with L&B's Concrete Landscape Borders products is that you get the good looks you want, at a price that's much lower than what you'll incur with other types of landscaping border material. Concrete is ultimately even more cost-effective than plastic edging, because plastic will need to be replaced multiple times due to weathering, and concrete will last for decades, even a lifetime if properly maintained.
Beauty and Customization
Another benefit found with concrete borders is that they are quite beautiful, and can be customized to match virtually any aesthetic you might have. Love the look of brickwork? L&B's Concrete Landscape Borders can be shaped and colored to suit. Prefer the look of natural stone? Our concrete landscape borders service can customize your borders in that way, as well. Whatever your desired style, design and color, we can help you achieve that through advanced forming, stamping, and dyeing processes.
Durability
Yet another benefit of concrete borders is this – they last a lifetime when properly maintained. Yes, concrete is porous, and if left unsealed and unmaintained, it will eventually succumb to the passage of time. However, the right care applied periodically will ensure that you have a beautiful border in your yard for as long as you own the home. Of course, the maintenance required is far less than what you'll find with other products on the market.
Quality Matters
While concrete is durable and it can be customized to almost any degree, you need to work with the right company to ensure the best outcome. At L&B's Concrete Landscape Borders, we specialize in quality concrete edging and stamped concrete curbing, with almost 20 years of experience. We're a licensed, insured and bonded veteran-owned business, and we also offer both residential and commercial concrete landscape borders designed to suit your specific needs and requirements. We invite you to contact us today to learn how we can transform your yard or business grounds.
Add to favorites