Posted by
Apr 4, 2018
in
Security
|
0 comments
on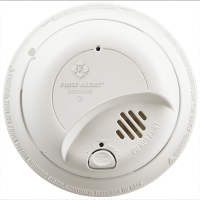 Homeowners are often confused when faced with electric and battery powered detectors. These are both common types of smoke detectors, each serving a different purpose. Learning more about them can help you decide which ones your home needs.
Electric-Powered Detectors
Electrically powered detectors are hardwired into your home's electrical system and also come with a battery backup. As a result, they are incredibly reliable since you are always protected. These devices also last a long time, requiring very few battery changes throughout their lifespans. Since these devices are hardwired into your home's electrical system, they do require slightly more advanced knowledge for installation.
Battery-Powered Detectors
Detectors powered by batteries are incredibly popular. They are easy to install, while also being cheaper than their counterparts. Homeowners who have battery sourced detectors need to be sure they test and replace the batteries at regular intervals for safety. Experts agree that if you hear the low-battery beep, you have gone too long without inspecting your device.
Which is Best?
The type of alarm that is best for you depends on a few factors. Your municipality may have legislation requiring one type over the other, so be sure you check relevant by-laws before you buy. You should also think about your budget and ease of installation. Families on a budget should stick with a high-quality battery powered detector over a cheap electric one. If, however, you are forgetful or not home enough to test and replace your battery, you should consider investing in an electrical detector with battery backup. You may also want to think about buying different types for different parts of your home.
Trying to decide between electric and battery detectors can be confusing. To learn more about the different types of electric and battery powered smoke alarms, visit First Alert online.
Add to favorites