Posted by
Dec 26, 2016
in
Boat Trailers
|
0 comments
on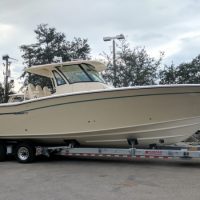 Operating a boat yard successfully means having the right equipment to safely and easily move boats around the yard and into and out of storage areas. Each boat yard has its own specific and unique needs and choosing the right yard trailer to meet those needs will be important.
Having the correct size of trailers to safely move the vessels that will be worked on or stored in the yard is always the biggest concern. Cheaply made trailers, while saving on the cost of purchase, often result in a higher risk of damage to boats, which can be very costly in both claims as well as the yard's reputation.
To get the right yard trailer for your needs, here are three basic considerations for choosing a quality trailer from a reputable and recognized manufacturer.
Operation
Ideally, having the ability to load, move and unload boats from a yard trailer with a single person is the most cost-effective option. This is also critical at the busy times of the year when everyone is trying to arrange to have their boats out of storage or trying to get them put up safely for the winter months.
One man operation includes the use of hydraulic systems to load and to secure the boat on the trailer. These are particularly effective with large boats of all types.
Self-propelled or Towed
Depending on the setup of the yard, choosing a self-propelled trailer or a towed boat trailer for a yard may be the best choice. While these trailers will be more costly, they can also operate in smaller spaces and don't require the use of a truck or tractor, which means one less piece of equipment to have on hand.
Towed trailers are cost-effective and offer durable, long lasting boat trailer designs. They are also very low on maintenance, which may be an important factor to consider.
Operating Conditions
Many boat yards will have different types of surfaces where the trailer will operate. Make sure any trailer selected is designed to travel on or off pavement, on gravel or on natural grass or dirt surfaces.
Wheel and frame configuration and overall trailer design will all play a part in determining if the trailer is designed to meet the needs of your boat yard.
Add to favorites