on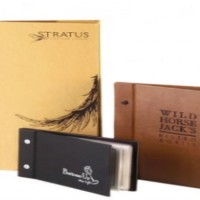 The Cafe menu covers are essentially the face of your restaurant. They become a crucial part of the décor and ambiance as soon as someone walks in. A quality menu cover will work to create an image of the restaurant, the people, and even the food. It can work to build or distract from a brand image and can be used as a promotional tool. A quality cover will look fresh and new – all the time even after several weeks of use. It won't wear off quickly, and it will retain its appearance for a long period of time. In addition to finding a quality cover, you also have to consider the types that are available. Here is some additional information:
Café Menu Cover
Cafe menu covers are very popular since they offers extreme versatility. This menu cover is offered in different styles and sizes, and you can change the paper and clean the vinyl easily. It is designed with single pockets, double pockets, triple pockets and also available in a book style.
Customized Menu Cover
This selection of cover will be designed according to your custom requirements. You will be able to select the style, in addition to the material that is used. You can choose vinyl, metal, wood or plastic based on the style and ambiance of your restaurant. You can also add embellishments and embossing if desired.
Leather Menu Covers
The bonded leather book looks elegant and will make a strong statement with regard to style. The interior of the cover also has a cloth backing and four corner mounts to hold the paper in place.
Leatherette Menu Covers
This is a tough material and it will last for a long period of time and come in a number of color options including red, green, burgundy, blue, coffee and black, and others based on the supplier you choose.
Imitation Leather Menu Covers
These offer a high level of endurance, but feel soft to the touch. You can have them customized to meet your restaurant's needs and specifications as well.
Take the time to consider all the options you have to make sure you find the right type of menu cover for your needs. Make sure you find the type of menu that is protected for guest after guest.
Add to favorites