Posted by
Sep 10, 2018
in
Shopping
|
0 comments
on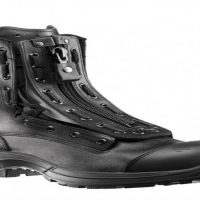 On most types of jobs where there is a risk of any type of injury to the feet from objects being dropped to any type of compression to the toes, safety toe work boots are required. These boots may be called steel-toed boots or just safety boots, but they are designed to protect the feet through the use of a steel reinforcement cap around the toes.
These boots are not just mandatory; they are an investment in your safety. Foot injuries are some of the most common injuries reported on the job, and the vast majority of these injuries occur when these safety boots are not worn.
Finding the right size in safety toe work boots is important. When boots are comfortable and fit correctly, it is more likely people with wear the boots all the time on the job. Taking a few minutes to make sure you are buying the right size will allow you to have comfortable, protective footwear that will last for years.
When to Shop
While many people assume their feet are always the same size, this is not the case. In fact, feet can be up to a half a size bigger at the end of the day as compared to in the morning.
For those that are on their feet all day, this makes a big difference in the comfort of boots. As steel-toed boots have no give through the toes, trying on new boots at the end of the day after being on your feet will give the best fit.
Wear Work Socks
Most people tend to have work socks that are thicker and more cushioned than socks they wear with their casual shoes. When trying on safety toe work boots, always bring a pair of your typical work socks and wear them when trying on the boots.
Comfortable Stride
Walk around in the boots as well as just try them on for size. The foot should not slide around in the boot, and the sole of the boot should be relatively easy to flex with your foot if you bend. This flex in the sole should be at the ball of the foot, not at the arch.
Add to favorites