on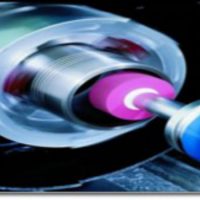 There are many different specific types of grinding from centerless grinding to jig grinding and flat grinding. Most people are very familiar with flat grinding, which may also be called surface or Blanchard grinding or vertical spindle grinding. This is rotary grinding on a flat surface that can be used to remove minor to significant surface irregularities. This can be completed to tight tolerances as well and is a very good option for large parts and components.
The other option that is commonly recommended is precision grinding. This is completed by CNC machines for extremely tight tolerances and providing completely smooth surfaces even on the most complex types of shapes and designs.
The Advantages of Precision Grinding
Blanchard grinding is typically reserved for large pieces with tolerance requirements of greater than 0.001 of an inch. In this process, there is a typical grinding pattern mark on the surface, which is uniform in nature but may not be considered aesthetically appealing for all parts and components.
The opposite is true with precision grinding. This is designed for small surface areas that may be complex and not suited for flat grinding options. Additionally, this is a process that is able to work to the plus or minus 0.001-inch tolerances, so it is very precise.
This is also a process that uses horizontal spinal grinding as well as cylindrical grinding. There is also the option to use centerless grinding, which is an ideal choice for long, cylindrical shapes for shafts, pistons and machine components.
In addition to the tolerances that can be maintained with precision grinding, it also leaves a smooth, surface finish. The surface will not show the grinding patterns associated with other grinding methods, so it is often seen as a better option when both precision and surface finish is important.
Add to favorites