Posted by
Aug 7, 2018
in
Shopping
|
0 comments
on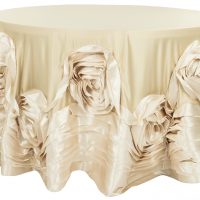 If you've chosen a particular theme for your wedding, it's important to make sure every last detail embodies the spirit of that theme—from invitations and gowns to table décor and floral arrangements, a cohesive theme makes a lasting impression on your guests. When you're making a list of all the things you'll need to make your day perfect, don't forget about wedding drapes, which can really tie the room together and add an extra touch of beauty to your ceremony. Here are a couple of fun and creative ideas for your wedding drapery:
Patterns
When it's time to choose your drapes, don't be afraid to experiment with patterns! Solid-colored drapes are available in basically every hue you can think of, but patterns make a bold statement that can be a lot of fun. You can find wedding drapes in every pattern from basic stripes to colorful checks and whimsical polka dots—for some extra glitz and glam, you could even try some drapes with glittery sequins!
Adding Accessories
Depending on the theme of your wedding, you can turn your drapes into a major statement piece with just a little bit of extra work. If you're going for a nature-based theme, hanging faux flowers and vines from the top can provide a convincingly outdoorsy look. You can also play around with lighting by attaching strings of fairy lights to your drapes, which helps turn the venue into a warm and inviting atmosphere.

These are just some of the many creative ways you can use drapery to help turn your chosen venue into a beautiful, memorable location. Since your wedding is one of the most important events of your life—and, depending on how many people you invite, one of the biggest guest lists to impress—you'll want everything about it to be flawless.
Add to favorites